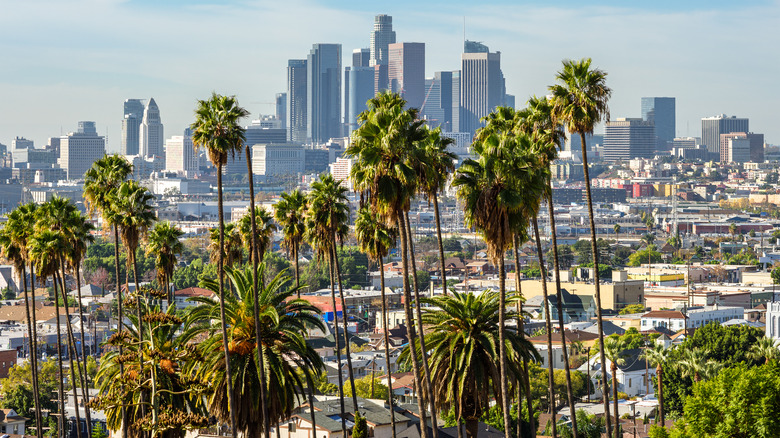 According to data taken from Zillow, the number of new listings in Los Angeles continues to trail behind last year's totals by a wide margin. June 2022 saw approximately 9,500 new listings hit the market, a stark contrast to the roughly 10,700 new properties that became available during June 2021. To some observers, it's easy to see why: While rates of housing units in construction are skyrocketing in many parts of the country, Los Angeles has lagged behind most metropolitan areas in terms of new multi-family and single-family housing permits issued in 2022 (via Levelset).
Per CBS News, the stagnating rate of new listings in Los Angeles isn't the only metric that indicates that the region's real estate market is on the downturn. In fact, total sales for May were so bad that you'd have to go back more than three decades in order to find worse figures in that month. Given rapidly-rising mortgage rates and the high likelihood of a looming recession, it's easy to see why both buyers and sellers are taking a collective moment to see which way the winds will blow.
Fast changes and potential future action
As the Los Angeles real estate market begins its cool-down phase, the days of sellers moving homes within weeks at above asking price seems like a distant memory. According to the Santa Monica Mirror, this is resulting in an increase in the total number of properties for sale, as well as sellers dropping their asking price in order to catch the eye of prospective homebuyers. Given just how much things have changed in such a short timeframe, it's understandable that many people are waiting for positive signs before putting their property on the market.
Of course, economics isn't the only factor that's keeping new L.A.-area real estate listings from hitting the market. While a lack of housing options and fierce competition are leaving many prospective Los Angeles homeowners feeling dejected (per Spectrum News 1), city officials appear ready to change some of the strict zoning regulations that are keeping new properties from being built, as noted by the Los Angeles Times. However, whether these changes will lead to a significant amount of new listings in 2023 is yet to be seen.