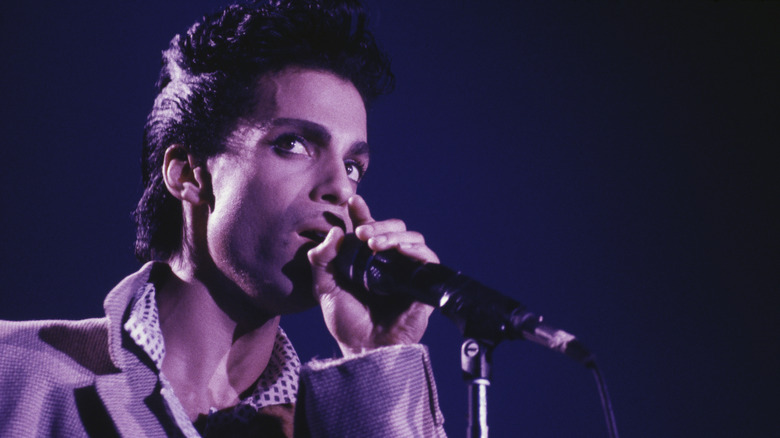 On Sept. 11, 1987, Minneapolis native Prince Rogers Nelson, aka Prince, moved into his dream home in nearby Chanhassen, Minnesota. The pop star's purpose-built compound, boasting a cubist industrial style, was named after his 1985 song "Paisley Park," which contained lyrics about a place where there weren't any rules and that existed solely in the heart. Until his death in 2016, at age 57 from an accidental overdose (via BBC), the house Prince built was his sanctuary, his studio, his stage — and a structure shrouded in myth.
In his purple prime, Prince was an artist, entertainer, and instrumentalist without equal. Like his music, Paisley Park lives on to offer interested parties a look into the life and times of an enigmatic talent who was once one of the biggest stars on the planet. So roll up, step right this way, and let's take a tour around a palace fit for a Prince.
Don't judge a book by its cover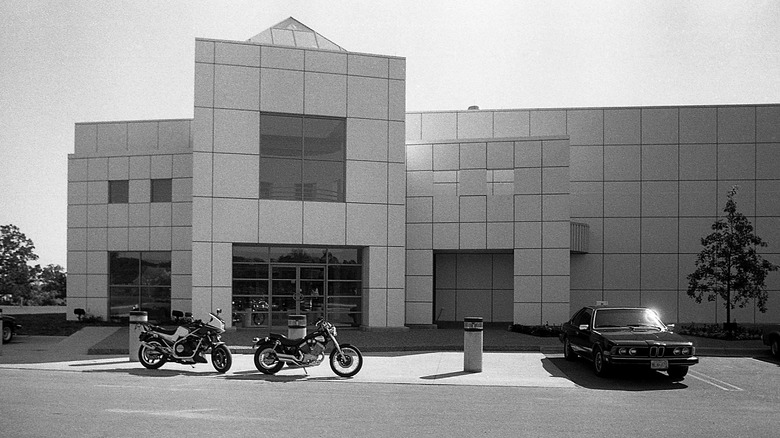 Paisley Park was designed in 1986 as an artist's compound by 23-year-old architect Bret Thoeny for $10 million (via The New Yorker). "Prince had this vision to have everything under one roof," he told Billboard. "And this was decades before it was common for any individual to do that." Thoeny explained that the outside consisted of all-white aluminum with very few windows to reflect the landscape's simplicity.
Located a short drive from Prince's beloved hometown of Minneapolis, Paisley Park's location may seem a bit peculiar for such a flamboyant pop peacock, but as the notoriously secret musician once remarked, "I like Hollywood. I just like Minneapolis a little better." Seemingly designed to throw the casual passerby off the scent of stardom, the exterior of Paisley Park looks more like a factory than the 1980s version of Graceland. But don't judge a book by its cover.
Life is a stage at Paisley Park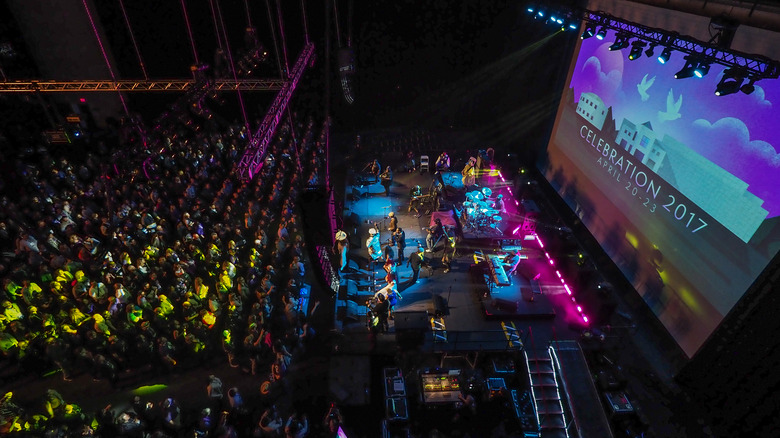 Shakespeare may have described the world as a stage, but if you're one of the most influential artists of all time, it's handy to have a stage in your own home where you can jam in private or with pals. Prince had a 12,500-square-foot sound stage for performing and filming. Scenes from the films "Sign O' The Times" and "Graffiti Bridge" as well as commercials for Burger King and McDonald's have been shot there, according to Prince Vault, and Prince also used the stage to rehearse for his tours. And he wasn't alone: Other acts, such as the Beastie Boys, Kool & The Gang, Neil Young, and Barry Manilow, have all polished their performances on the Paisley Park stage before taking their shows on the road.
When Prince gave his last performance on this stage, he played "Chopsticks" on the piano for a small gathering, per The Guardian. Today, the stage is used to display various pieces of Prince memorabilia, including his cars, outfits, and purple piano.
Let the music play
Prince was such a prolific musical talent that he wasn't content with just one studio in his house. By the time of his death, Paisley Park, according to Prince Vault, boasted four studios, A, B, C, and D. At 1,500 square feet, studio A was the biggest of the bunch, with granite walls, isolation booths, and all modern technology. Studio B was a lot simpler, coming in at 1,000 square feet, but it still housed state-of-the-art technology. Studio C was more of a rehearsal room but still had space for a mirrored wall containing a dance rail and a floating dance floor.
Last but not least, Studio D was added in the early 1990s to accommodate the number of artists wishing to record at Paisley Park. Big names such as Madonna, Stevie Nicks, Stevie Wonder, Paula Abdul, and R.E.M. all recorded there, per Goldies Parade, and after "Lovesexy," Prince worked on all his albums in his home studios.
When doves cry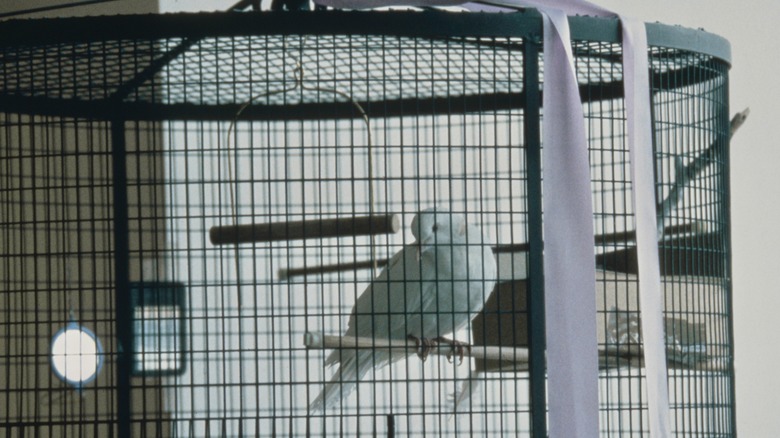 Doves are intrinsic to the legend of Prince, and prior to February 2021, visitors to Paisley Park could have viewed the last of the singer's iconic doves, Divinity, on the upper floor overlooking the lobby. Sadly, Divinity breathed her last on Feb. 2 at age 28. Prince's two pet doves, Divinity and Majesty, played an important part in the life of the man who famously sang about their haunting lament on the "Purple Rain" album. They accompanied the famous bird lover on tours and were featured in countless productions and events. According to Vanity Fair, Divinity and Majesty were even given a credit on Prince's 2002 album, "One Nite Alone," for their "ambient singing."
Both Divinity and Majesty grieved for Prince months after his passing. "After he passed, they weren't talking," said Prince's sister Tyka Nelson. Apparently, Prince's feathered friends had fallen into a deep depression. In a bid to lift their spirits, Tyka recommended playing some of Prince's music. It worked, and until 2016, Divinity and Majesty welcomed visitors to Paisley Park with an unmistakable coo. Majesty passed away in 2017, leaving Divinity to keep a lonely vigil until she, too, passed. According to PaisleyPark.com, Prince's house is in dire need of more doves, and there are plans to introduce a new generation of birds to welcome visitors in style.
A private club for a privileged few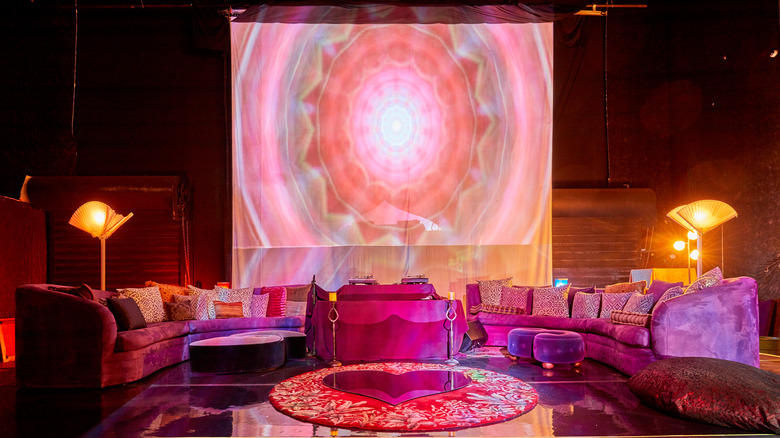 Prince was the kind of guy that liked to get up close and personal with fans. And what better way to appreciate the performer's talent than in a small club setting? Paisley Park's NPG Music Club allowed visitors to experience the subtle shades of Prince's talent in an intimate setting that was pretty much his own private nightclub. According to The Current, it was where he held his legendary After Dark dance parties, and apparently, he did a one-off gig for Madonna and about 60 assorted guests in this very room not long before he passed. The setlist featured songs like "Sign O The Times" and ended with the Isley Brothers' "Work to Do."
The NPG Music Club features velvet sofas, a balcony, a dance floor, and huge video screens. Now, it can be rented out for private functions, but it lacks a certain regal flair without the Prince himself in attendance.
Paisley Park's galaxy full of knowledge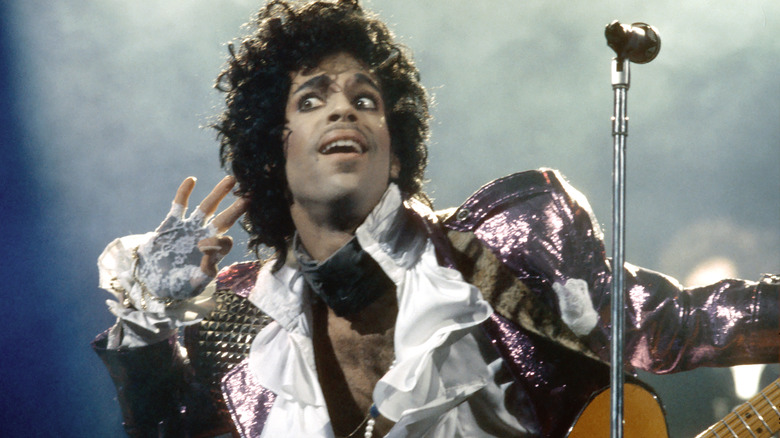 Prince was a pretty far-out guy, even by the fast and loose standards of the music industry. So it's only fitting that Paisley Park has a Galaxy Room. Cosmic! The artist would meditate and relax in the space, which was designed in the 1980s, according to Home Addict. It's equipped with ultraviolet lights, a range of instruments, a recessed ceiling, and overhead purple lights.
Where there's a Galaxy Room, there's also got to be a Knowledge Room, right? Forbes reports that as a committed Jehovah's Witness, Prince had a room where he could study the religion. He was converted in 2001 by Sly and the Family Stone bassist Larry Graham. He believed in both spreading and studying the word, and his Knowledge Room was a way of showing his fierce dedication. According to Billboard, Prince was so committed to being a Jehovah's Witness that he used to knock on doors in both Los Angeles and Minneapolis to hand out leaflets on salvation.
A dome-shaped mystery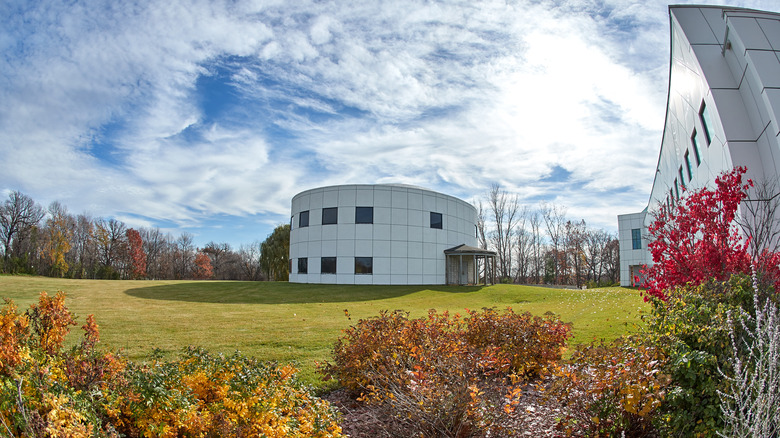 Within the grounds of the Paisley Park compound, you'll find a curious dome-shaped outbuilding (via Home Addict). Rumors abound as to its true purpose. Some say it was Prince's actual living quarters, while others claim it was originally designed as a dining area. Perhaps it was a watchtower for the four horsemen of the apocalypse. Who knows? One thing's for certain: It's wrapped in a tangible air of mystery and remains a hot topic among Prince fans.
Even though the structure looks like a guard tower, it's likely a vault or multi-storied garage used to store some of Prince's wealth of possessions. Consequence reports that Prince was something of a hoarder. He had 120 guitars in his basement; suitcases everywhere stuffed with makeup; a garage overflowing with stage outfits and costumes; and at least 2,000 pairs of shoes, all with three-inch heels — even his flip-flops. What can we say? The man had style. Interestingly, the one thing Prince didn't appear to own was any leisurewear. Even when chilling at home, Prince was always Prince and refused to let standards slide.
The ashes of a legend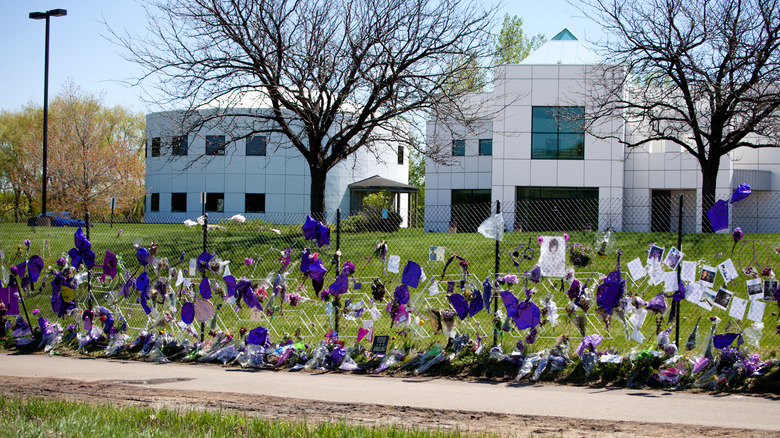 Prince's spirit may have fled Paisley Park in 2016, but his ashes remained — bizarrely enough, in a replica of his beloved house in miniature (via Velvet Ropes). Visitors to Paisley Park were often surprised to find that the atrium, the scene of Prince's famous 1996 Oprah Winfrey interview and the room where he allegedly felt most alive, would also become his final resting place. The glass-encased replica of Paisley Park that sat in the atrium contained the urn with his mortal remains. When told that they were standing in the presence of the ashes of a legend, fans would reportedly go weak at the knee, and Velvet Ropes reports that some would even burst into tears.
However, upon his family's request, Prince's ashes were eventually relocated to a less noticeable corner of the atrium before they were hidden from the public eye permanently, per Billboard. Yet to mark the fifth anniversary of the artist's death, Prince's family plans to return his ashes to the atrium so that a select number of fans can visit and pay their respects.
A symbolic entrance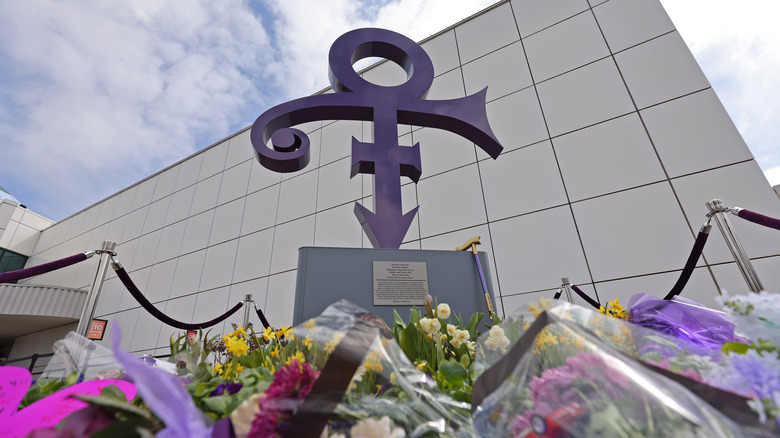 There are lobbies, and then there's the spacious room of wonder that awaits visitors to Paisley Park. You definitely know you're not in Kansas anymore when you set foot in perhaps the most famous room in Prince's pad and marvel at the wonders that await. According to Conde Nast Traveler, apart from a letter of condolence from former President Barack Obama and Michelle Obama penned in purple ink and hanging on a nearby wall, the atrium abounds with signs that you're in the house of someone pretty special. The regal balconies, sky-painted walls, flickering candles, abundance of bright color, towering portraits of Prince, and elusive blue and purple light falling through the glass pyramids overhead all add to the atrium's mystical vibe.
The famous and unmistakable symbol that adorns the white-tiled floor like a protective rune is what truly makes you realize you're in Prince's home. According to the BBC, he took the unprecedented move of forsaking his name in 1992 to become an unpronounceable symbol instead. It was a bold move, considered insane in some quarters. Prince later explained that because Warner Bros. had taken his name and trademarked it, he felt he became little more than a money-generating pawn and decided to do something extremely symbolic. "It's all about thinking in new ways, tuning in 2 a new free-quency," he said in a statement.
Privacy is the point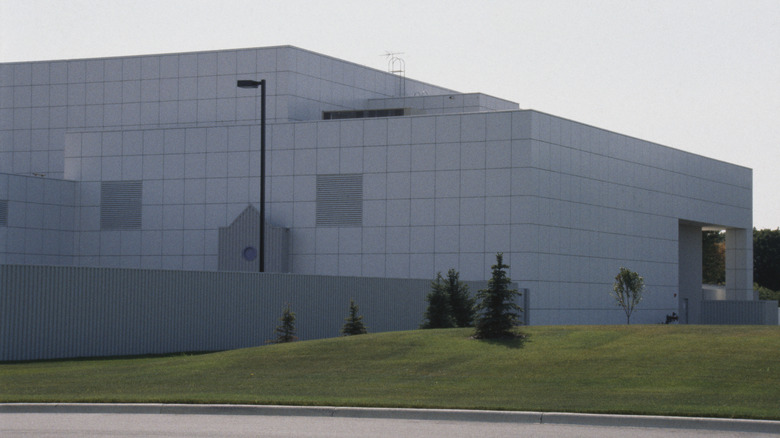 Apart from the breathtaking atrium, there's not much natural light in Prince's place mainly because there are very few windows, according to Forbes. But that impenetrable facade adds to Paisley Park's mysterious quality. In fact, you could liken it to a prison, but as a very private individual, Prince was adamant he didn't want too many windows to compromise the mystic nature of the place he called home. Plus, he kept notoriously odd hours and didn't want to be disturbed. Prince also had a strict rule that visitors never record anything within his home, and to this day, his private quarters are still exactly that and remain off-limits to guests.
While there's a lack of sunlight in the home, for Prince — who wrote, recorded, and played a treasure trove of music there — it seemed that the heart of Paisley Park burned bright enough.
Purple reigns supreme at Paisley Park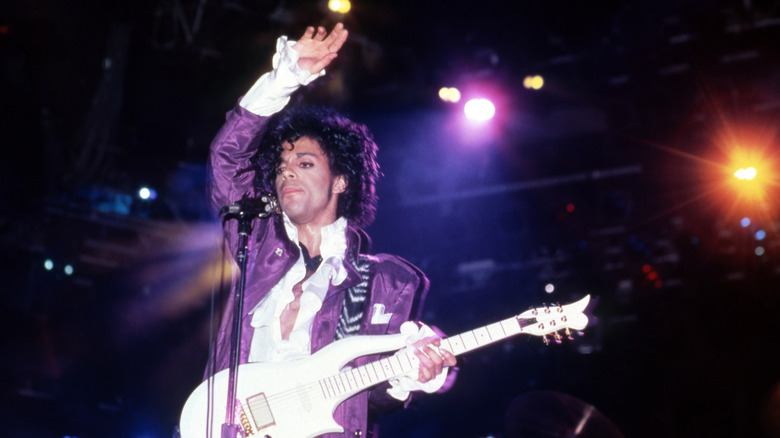 Whenever Prince was home, passersby would always notice a purple hue emanating from Paisley Park, according to Forbes. It wasn't due to wizardry but because he (obviously) loved the color purple. If you visit Paisley Park, be prepared for purple — and lots of it. Prince's vision for his home was reportedly conceived in 1983 while the singer was in the middle of shooting scenes for the "Purple Rain" movie. Naturally, Prince was going to go big on the color purple when it came to customizing his home.
Conde Nast Traveler reports that Paisley Park has a Purple Rain Room that's almost womb-like in its cocoon-style ambiance. Purple ripples of light are projected on the walls, and the room pays homage to all things "Purple Rain," featuring the bike, jacket, and guitar made legendary in the film. If that weren't enough purple for one day, the room also plays the song "Purple Rain" on a seven-minute loop. Prince's half-sister Sharon Nelson explained, "He was fond of many colors in the rainbow, he especially loved the color purple because it represented royalty."
His name is Prince, and he's still funky.