Decorating a rental can be difficult, as you may be limited by your budget, your space, and the landlord's restrictions. However, as Keyanna Bowen, host of "Rental Redo" on Magnolia Network, says, "Just because you live in a rental doesn't mean you can't make it your own. With a few easy fixes and not a whole lot of money, you can transform any space and make it feel like home," per Realtor.
To do this, you'll need to use renter-friendly materials, including lighting, hardware, peel-and-stick wallpaper, and paint. These can all be used in rentals because they can either be removed or covered up before moving out of the space. If you live in a rental and you want a room to feel larger, have a conversation with your landlord to see if you can paint the area. Then, once you get the green light (and make sure it's in writing), be extra selective with your color choice.
A classic choice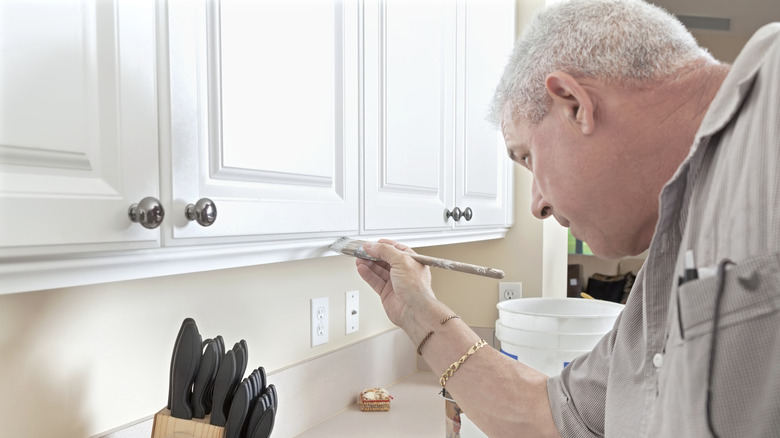 In episode two of "Rental Redo," Keyanna Bowen is faced with a cramped kitchen filled with brown wooden cabinets. Because she's working in a rental and has to follow a strict budget, she can't replace the cabinets or modify the room's layout. So instead, she simply paints the cabinets a classic color choice: white. According to Bowen, "When dealing with a small space, there are always things you can do to make it feel bigger and make it function better, like using white as your primary color palette," per Realtor.
However, this advice doesn't only have to apply to the kitchen; white paint can be used in any area of your rental home to create a more open and welcoming appearance. For example, Bowen uses mainly white paint in a nursery design in episode three, per Magnolia Network. To make the design stand out, she includes wainscoting and eye-catching wallpaper in a pinkish-beige tone.
Other color options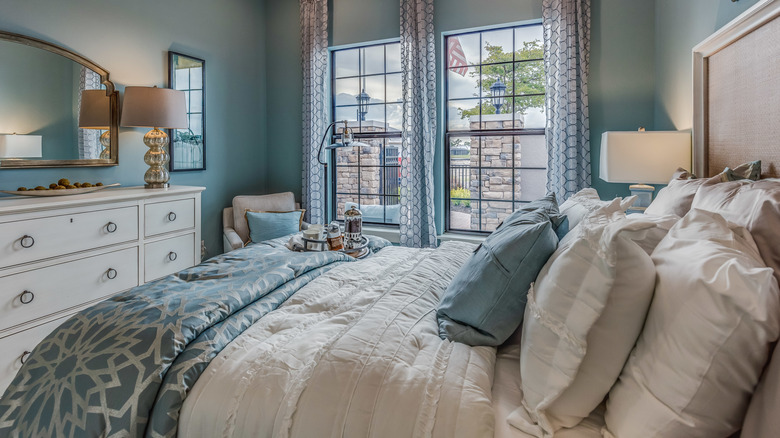 Keyanna Bowen realizes that white is not the only paint color that shines in small spaces, as she frequently relies on various light shades. In her own words, "Lighter colors will open up a cramped space to give the illusion of a larger area," per Realtor. Therefore, if you think white is too dull, you can include another shade that makes more of an impact while ensuring the room feels larger.
For instance, in episode one of "Rental Redo," she repaints white countertops with a light blue paint to provide a more coastal look. Bowen says that making the cabinets this bold color is "just one way to really transform the space," per Realtor. She includes peel-and-stick vinyl on the backsplash, which also works to improve the design. Other examples include her adding light green on a bunk bed, painting a bedroom light blue, and adding a light pink and gray floral wallpaper behind a desk. Any light tone or pattern will brighten and open up a small space.