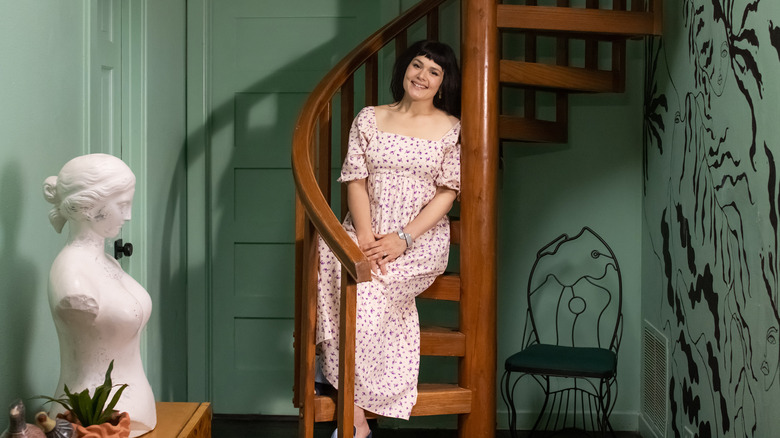 There are many avenues to furnish your house, but few offer as many opportunities to add uniqueness and personality as incorporating secondhand and vintage furniture. This is what Katie Saro showcases in Magnolia Network's "The Art of Vintage." The show follows Saro as she renovates her own home with one-of-a-kind, stunning vintage finds and also helps her clients' visions come to fruition using secondhand antique pieces.
Dipping your own toes into the world of vintage design and furnishing can be intimidating for first-timers, though. If you've ever wandered into an antique mall or vintage shop, the rows and rows of furniture and decor can quickly become overwhelming. During an exclusive House Digest interview in anticipation of a new season of "The Art of Vintage," Katie Saro shared her expert advice on designing a space, including how to incorporate vintage pieces — and more importantly, where you should go to find them.
Start at thrift stores and flea markets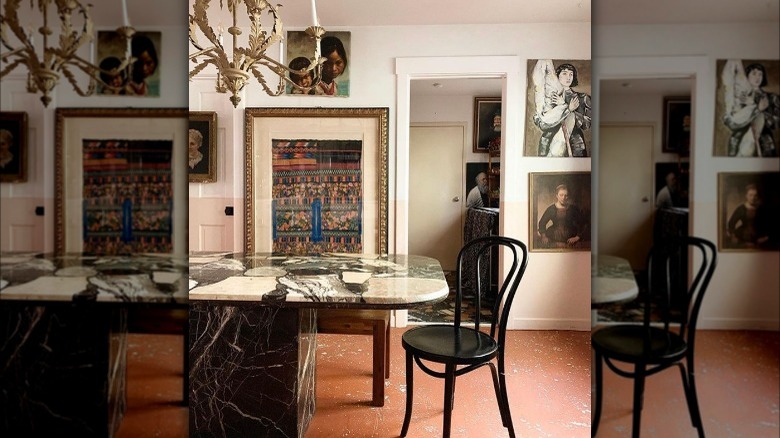 The first concern to address when entering the world of vintage home decor is where to find items. While it's easy enough to buy new furniture online or in a box store, purchasing vintage furniture and decor requires you to go out and explore. Katie Saro says antique stores are fun "because it's already curated for you, and you know you're going to find good things." However, she added, "Thrift stores and flea markets will always be the most fun because it's the thrill of the hunt. You have to sort through a lot of junk, but you might be able to find treasure."
Saro also recommends thrift stores and flea markets because they're cheaper and better for beginners. She advises starting by sourcing simpler items. "Avoid upholstery at first, because that takes a little bit more know-how and it's heavier. Buy accessories and decor items that are vintage, because those have a lot of impact without a lot of commitment."
Buy what makes you excited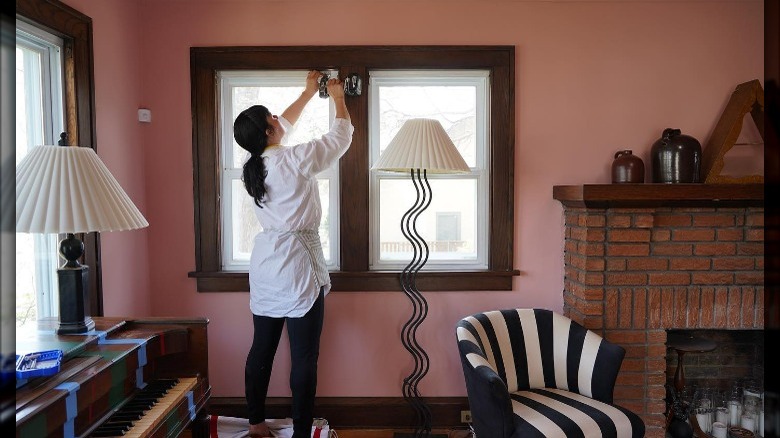 Now that you know where to look and what to look for, you need to be able to sort through the rows and rows of one-of-a-kind knick-knacks, artwork, and furniture pieces. This is why Katie Saro recommends only buying things that speak to you.
"Only buy things that really make you excited," Saro says, "because that's how you find out what your personal style is — when you buy things that make you gasp and then bring it into your house and then look around at all the things that are in your house and your house will tell you what your style is."
If you're worried about bringing secondhand decor or furniture into your home — because the last thing you want to do is spend money on something that's going to fall apart due to age or prior use — Saro assures that you can rest easy with vintage furnishing. "Vintage is inherently practical because it's already lasted 50-plus years. It's going to last you another decade or two, which you can't say of newly made furniture." She also recommends vintage for those with children or pets, "because they know that they paid a lot less for [their furniture], and they're not worried about it being ruined because it's already been made with quality materials."
All episodes of "The Art of Vintage" are available to stream on discovery+ and the Magnolia app.