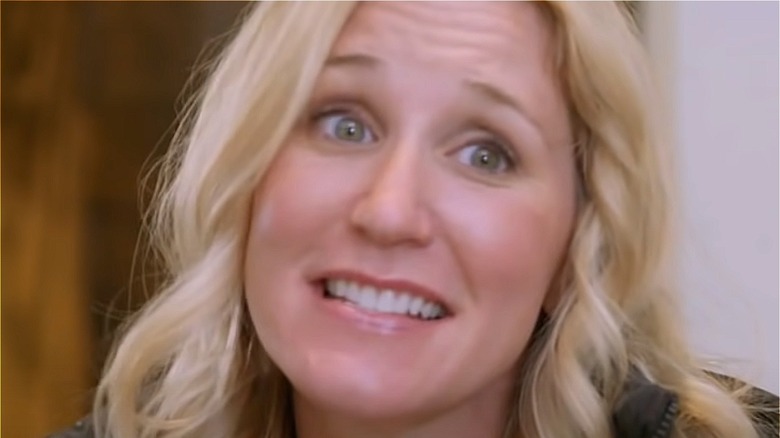 Jenny and Dave Marrs from HGTV's "Fixer to Fabulous" opened up about their favorite kitchen renovation, which they did for a couple named Amy and Andy in their Springdale, Arizona home, according to Realtor. The talented pair completely transformed Amy and Andy's dated midcentury style home into a stylish retro midcentury modern abode (via HGTV). Solely having a strict budget of $190,000, Jenny and Dave had to figure out how to renovate the exterior of the house, the staircase, the kitchen, and the pool without going over the budget.
A few of the renovations included painting the old brick of the exterior to dark gray and replacing the siding with sleek metal. Inside, the renovated residence displays the Marrs' modern aesthetic right away. Jenny and Dave manage to create a retro interior pool with a beautiful blue and orange mural, complete with a disco ball hanging above the pool, a wet bar, and garage door opening up to reveal a patio.
Before the remodel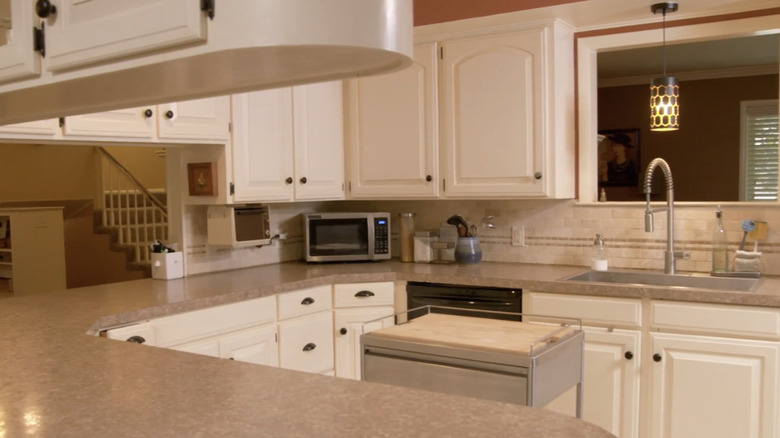 Amy and Andy's kitchen had the most work done out of the entirety of the home, which was revealed on "Fixer to Fabulous." Before, they had a closed-off layout, so Jenny and Dave Marrs had to knock down a few things to create more space. White cabinets hung above the granite countertops around the entire kitchen allowing for extra storage space. There was also a small peninsula in the middle of their kitchen, serving as their small island. A window looking into the living room sat above the sink, sticking to the older midcentury style.
Additionally, Amy and Andy had different furniture pieces in the kitchen that took up too much space. Several of the walls were painted a peach orange color that made the room appear darker. Other walls in the kitchen were a pale yellow. And, since they only had a couple of hanging lights above the dining table and the kitchen itself, the entire space looked dim.
From fixer to fabulous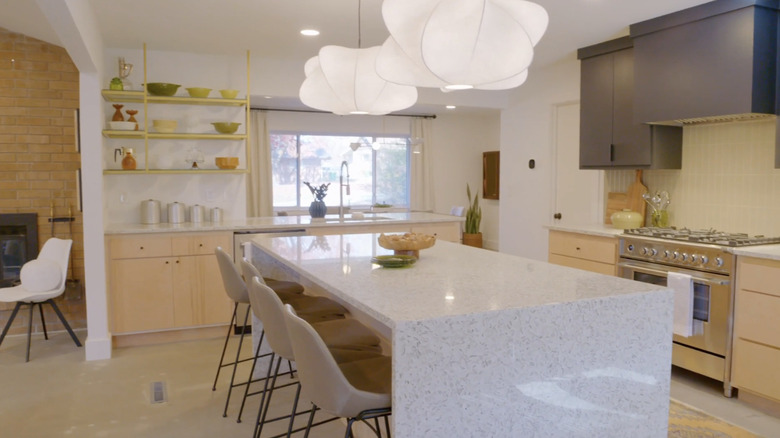 Once Jenny and Dave Marrs took a look around the kitchen, they knew an open floor layout was the best option for the space. Once they knocked down some of the old counters, the overhead cabinets, and the wall that divided the kitchen from the living room, Jenny and Dave repainted the entire kitchen white keeping one wall pale yellow. The new counters were made from recycled glass and Dave's favorite part of the kitchen, he told Realtor.
Instead of putting the peninsula back in the center of the kitchen, Jenny and Dave decided to install a whole new island made of the same recycled glass with beautiful brown leather chairs. They also replaced the small circular hanging lights with cloud shaped hanging lights, illuminating the kitchen along with the natural light from the windows. Smaller accent pieces pull the whole kitchen together, such as the plant in the corners and the shelving by the window that holds colorful pottery.