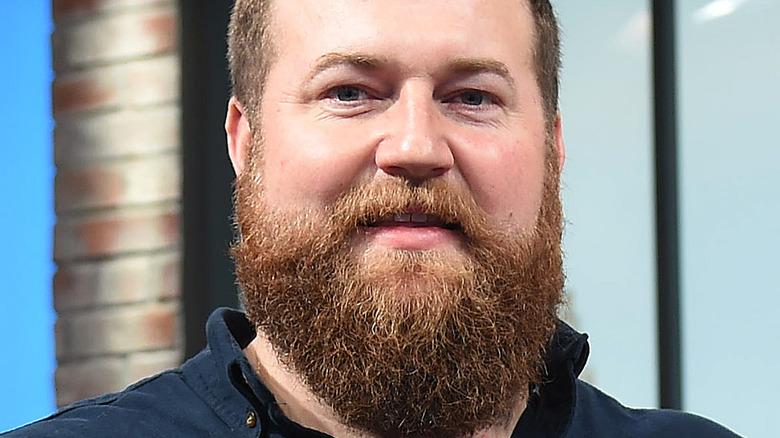 If you've ever watched even a single episode of "Home Town" (or "Home Town Takeover") on HGTV, then you'll be well-aware of the fact that the hosts are a couple named Ben and Erin Napier. The duo works together to bring new life to the homes they restore with their professional touches. As audiences watch — and surely get ideas for their own renovations — Ben and Erin each use their individual expertise to create TV-worthy dream spaces. While the two clearly work well together, there happens to be a very good reason why they're so in sync.
"We kind of formed our identities around each other in a way that I think is really healthy and good," Erin told People in December 2021 while opening up about their relationship's dynamic. She added, "There are things I'm not great at that Ben is, and there are things that he needs help with."
As for Ben, he explained to People, "We approach everything as a team." That may be true; however, they both have their own specific tasks when it comes to renovating and their own skillset. Indeed, Ben tends to take care of the wood-related work, which is why you might have assumed that he's a contractor or carpenter. However, it turns out that's not quite the case.
Ben Napier is all about the woodworking
Ben Napier may be pretty darn savvy when it comes to different aspects of restoring a house; however, he's not a contractor. While that might make you assume that he's a carpenter instead due to how often he's seen crafting items and creating amazing accents out of wood, that's not his profession either, according to Country Living. Instead, he's a woodworker who makes furniture.
Just take a look at his Instagram bio, where he notes that along with his HGTV show, he spends his time focusing on "history-inspired woodworking from Laurel, MS." He's also the star of "Home Town: Ben's Workshop," which sees him spending time with his wood-related craft.
"It's something that I never in a million years would have thought like this is what I am going to end up doing," Ben revealed while talking to the "Biscuits & Jam" podcast (via Country Living) in July 2021. However, it's obviously something he takes great pride in. As he explained on Instagram, "Woodworking takes precision [and] dedication to be done right." At the same time, he also told his followers, "I love bringing my ideas to life..." Fans can certainly see that when they watch him put his woodworking skills to good use on his popular shows.